Isimio is a fantastic Salesforce tool that provides a scheduling tool, GANTT chart, agenda, monthly and weekly calendar - all in one app!

It can sit on top of your existing data model, including third party applications installed on your org, and does not require any data synchronization or integration.
Built on top of our incredible scheduling solution, Isimio for Staffing allows you to manage shifts, track time and attendance, communicate with your candidates, and handle pay and bill tasks straight from Salesforce.

Comes complete with a candidate mobile app, Isimio for Staffing is a perfect solution for managing remote workers or volunteers.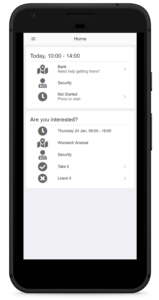 Isimio Mobile Forms
Our companion mobile application for Isimio lets you create and send custom forms to any of your workers. It allows them to fill in fields which will be captured directly in your Salesforce org, as well as a signature, and converts the completed form into a signed PDF.

Contact us for more information.